Please sign in so that we can notify you about a reply
Description
Full Payment Price: Venom2 (6Ah) $888
Debit/Credit Card Instalment available per month
Upfront: $310.80 (Bring home after payment)
2nd Month: $310.80
3rd Month: $310.80
No Interest, hidden fees and requirements!
Instant Approval! Just ensure you have at least $310.80 in your bank.
If you are paying by instalment, do select full payment, during mode of payment select Octifi / Rely / Atome Instalment Payment.
---
Come with Freebies (worth $259)
✔️Free 16in1 Mini Allen Key Tool
✔️Free Phone Holder
✔️Free Water Bottle Holder
✔️Free One Side Mirror
✔️Free Helmet
✔️Free Bike Key Lock
✔️Free Korea Hand Sanitizer
✔️FREE Lifetime Brakes tuning. (U.P. $15-20/time)
✔️FREE Lifetime Shaky Stem Tightening. (U.P $30/time)
✔️Free SG doorstep Delivery
✔️Free LTA Plate number with installation
✔️Free LTA Registration includes LTA inspection, Tagging fee and Registration fee.
(Exclude ownership transfer fee of $11).
*Free gifts are on a while-stock-last basis and subject to change without prior notice
---

Detachable battery and Choice of various accessories.
Venom 2 is with 36v 6Ah Battery Travel up to 60km(Tested rider weight 50kg travel 25km distance), Weight 18.2kg.
Venom 2+ is with 36v 10Ah Battery (Samsung 35E) Travel up to 110km(Tested rider weight 50kg travel 60km distance), Weight 19kg
Complies with the EN15194 standard, LTA Registered Orange Seal and Singapore Safety Mark charger. IP rating 54.
Extra battery available:
Venom 2+ is an upgrade version of Venom 2. Venom 2+ is equipped with a 36V 10.5Ah Samsung battery, providing a riding range up to 110 km and the charging time 5 hours. Venom 2+ equipped seat suspension, it provides more comfort than venom 2.
Venom 2+ comes with HD Smart Display Meter, it will show the battery power and status display. Other than that, It is a detachable battery and can add-on other accessories too.
Description
The Venom2+ is everything you wish to have on a PAB. Just to add-on to what the Venom 2 is equipped with, the Venom 2+ comes with a larger battery pack, thus a longer hours of riding on a single charge. The Venom 2+ also comes fitted with a suspension seat pole. There is a limitless possibility to what you can do with the Venom 2+.
Removable Battery Pack
2 Steps easy to remove battery design.
1. Insert key into the battery locking key hole and turn the key.
2. Battery will pop up and you will be able to remove the battery out from the bicycle frame.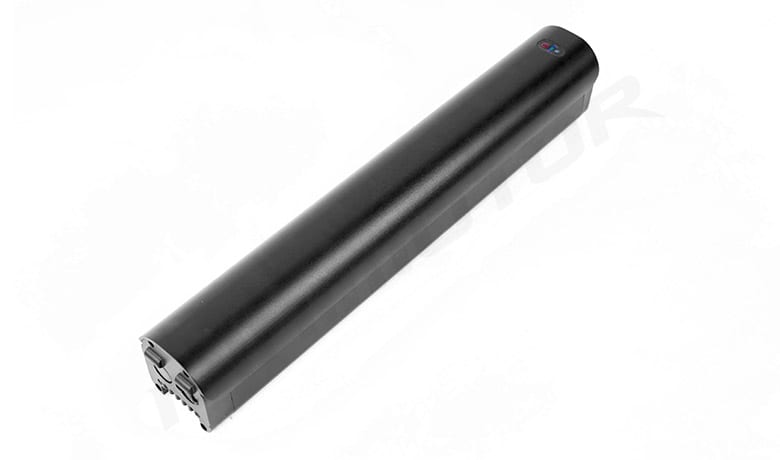 Powerful Battery
It takes only 3 hour to fully charge the battery all the way up from flat. Battery can be locked and remove from the E-bike frame.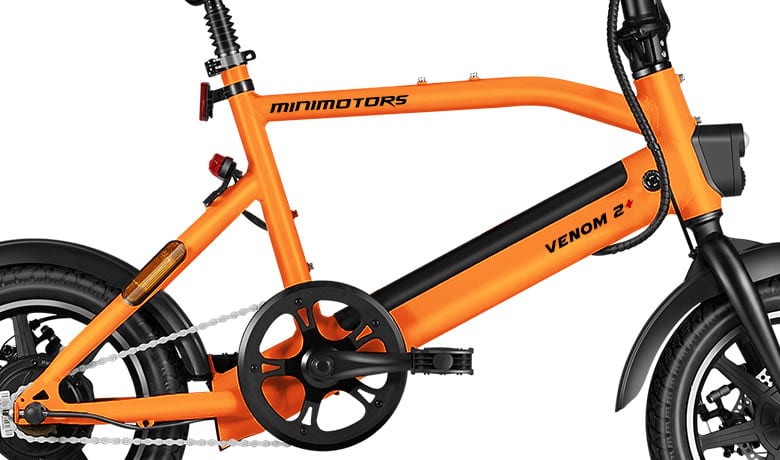 Venom 2+ Frame Design
Our research and development team has design the E-bike with future add-on in mind. The current option includes, bottle holder, front basket, child seat, rear basket, etc. There is a endless possibility to what you are able to add on and customise the Venom 2+ to your liking.
Aluminium Alloy Frame
Solid hollow aluminium body has undergo many long hours of research and development to ensure that the E-bike is able to withstand heavy loads while keeping the unit lightweight.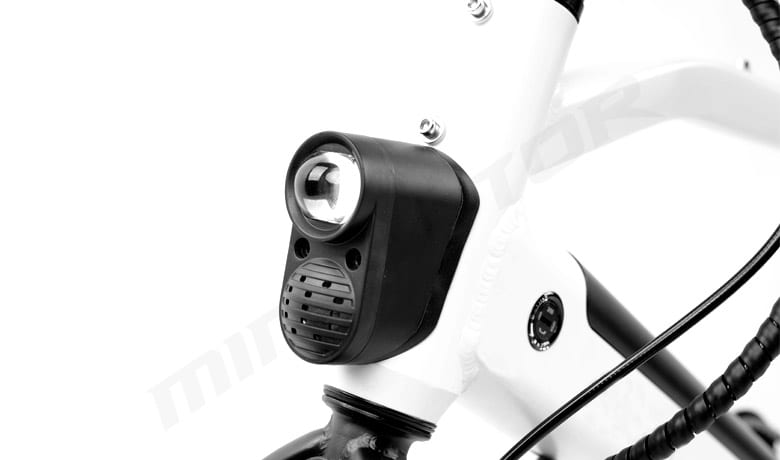 Strong LED Light with Horn
Front white LED able to light up the pathway in the night. Built in Horn.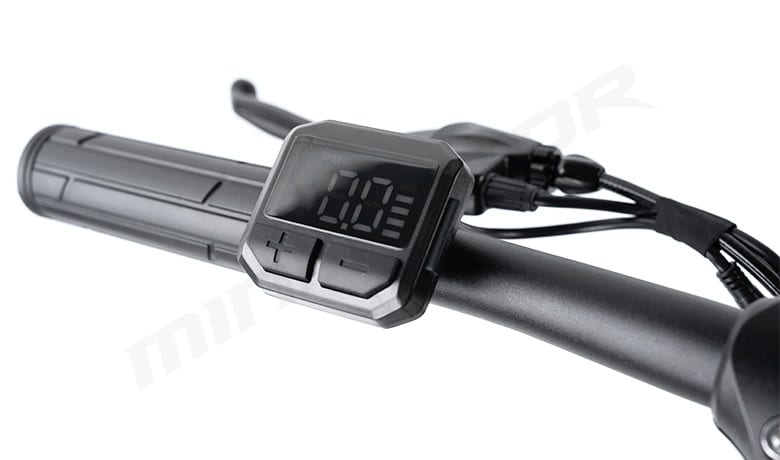 Bright LCD Display
The HUD display unit shows digital speed , 4 Level Assist, Battery Indicator, Front Light on/off, Mode Switch, Power on/off, Horn.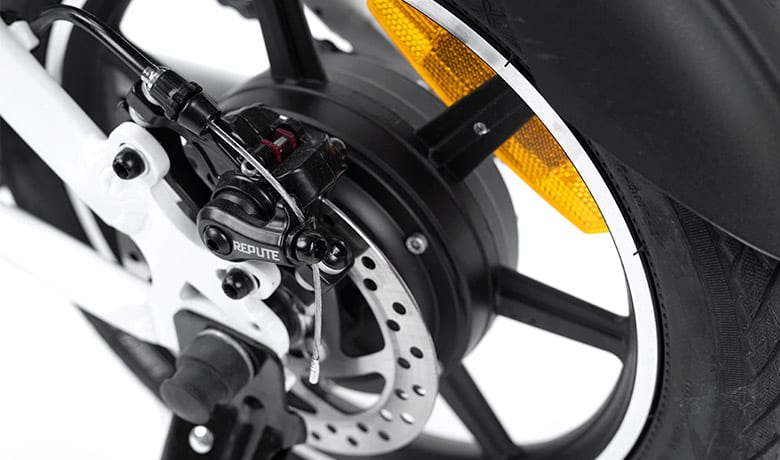 Powerful Gear Motor
Pedal assisted motor requires minimal effort going uphill.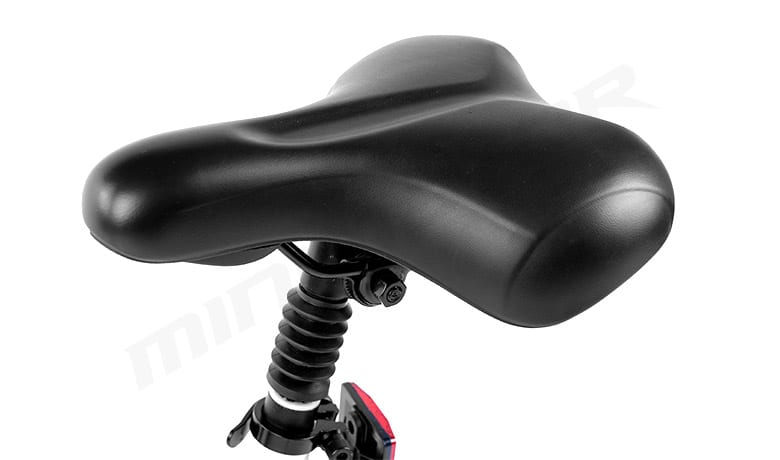 Comfortable Seat with Suspension
Cleverly concealed seat suspension hidden underneath the saddle helps dampens any road shock to the user.
Rear LED Brake Light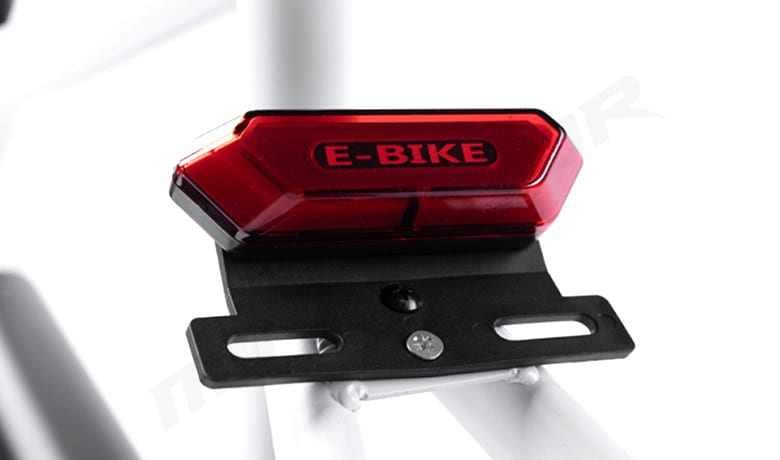 Depressing on the brake lever will trigger the rear light to light up. Higher visibilty on the road for other road user. It helps to signal the intention of the user that he/she is stopping.
Reflector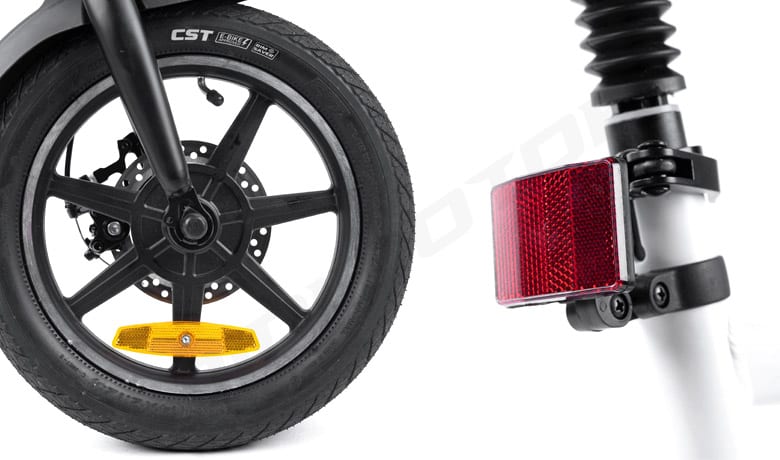 High quality reflector, easy to prompt pedestrians and vehicles at behind/side, it can be visible from far and make you safer to ride at night or raining days.
Small and Nimble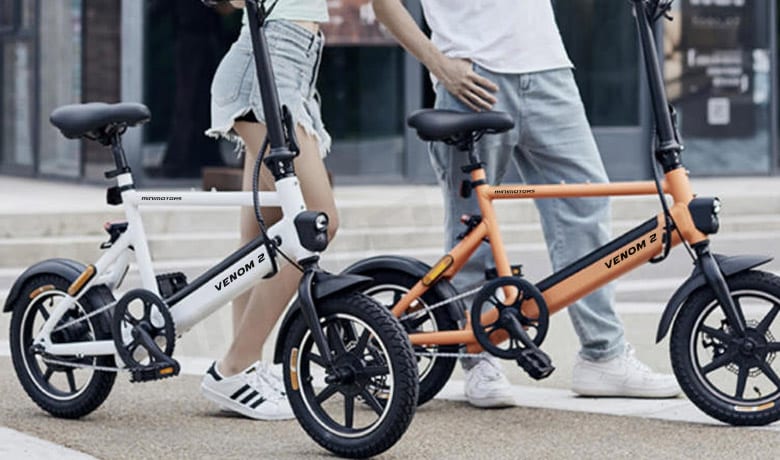 Suitable for both male or female rider, young or old. The Venom 2+ is design for all users in mind. This E-bike is light-weight and can be carried easily with one hand.
Foldable Stem Design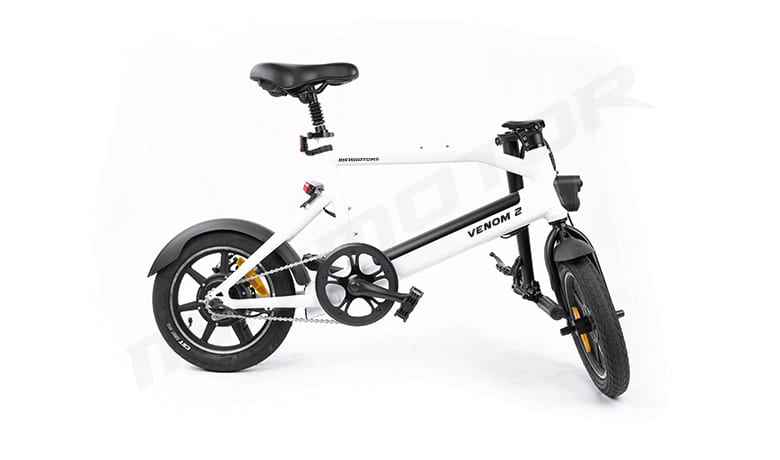 One Step folding of the Ebike stem ensures that the Venom can be loaded into the boot of a car if you intend to bring it over to the beach or park with your friends/family.
Disk Brake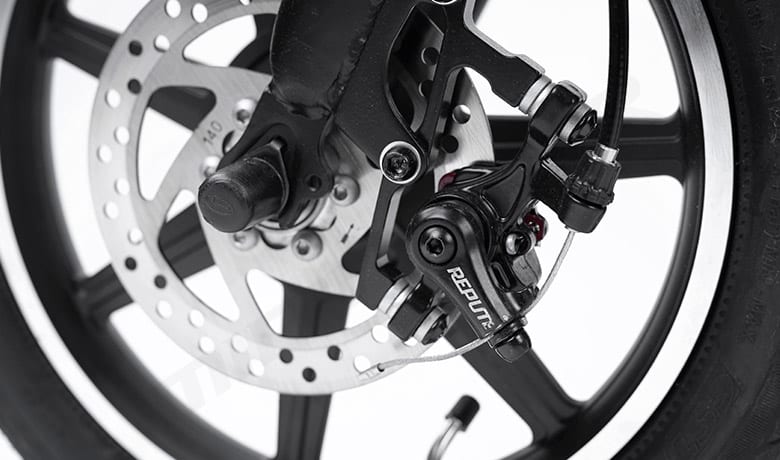 Powerful braking caliper are a great improvements compared to traditional rubber brakes. They are responsive, depending on how much strength you depress on the brake lever, you will be able to determine the stopping power of this Ebike.
Fender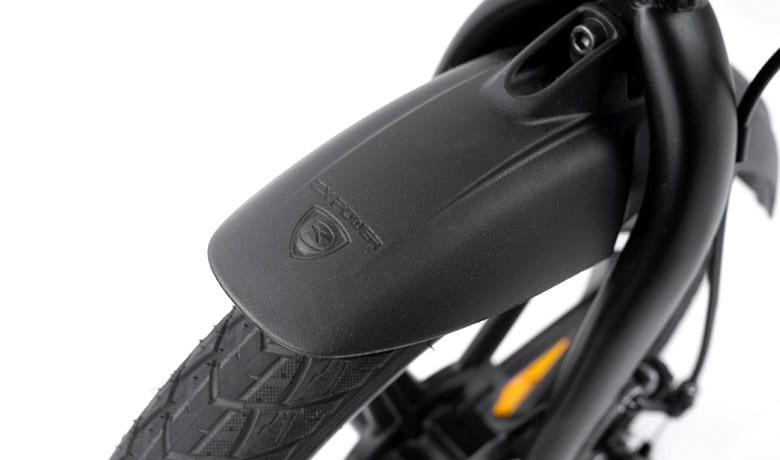 Light weight and easy to remove front and rear fender makes cleaning them hassle free.
⚙️ Main Specifications:
| | |
| --- | --- |
| Frame Material | Aluminum-alloy |
| Color Available | Grey / White |
| Weight | 18.2 kg |
| Unfold Size | – |
| Fold Size | – |
| Max Load | 100 kg |
| Battery | 36V 10.5Ah Samsung |
| Brake | Front & Rear Disc Brake |
| Accelerator | Hand Control / Foot Pedal |
| Charging Time | 5H |
| Motor | 36V Motor |
| Range Per Power | Up to 110 km |
| Max Speed | 25km/h |
| Max Climbing Degree | 15 degree |
| Adjustable | Seat & Stem |
| Tire Type | 14″ Front & Rear Tube |
| Suspension | Seat Suspension |
| Waterproof | IPX54, (IPX7 for core components) |
| Light | LED Front Headlight, Rear Brake Light |
| Special | HD Smart Display Meter, Detachable Battery, Can add-on Accessories |
| Safety Standard | LTA Standard, Safety Mark, EN 15194 |

*Do note this is a PAB.*
*Only can be used at Roads and Cycling/shared paths.*
The use of e-bike in Singapore is regulated by the authorities. Some of the important ebike regulations are:
1. PAB rider must wear a helmet when riding on roads.
2. PAB rider and pillion must be 16 years and above
3. PABs cannot be used on pedestrian pathways.
---
You may also be interested in