Payment Details/Notification
Mode of Payment available at our retail shop:



Mode of Payment available online:
Please note the following:
- Internet Banking or Bank Transfer is only applicable for local Singapore payment.
- As PassionGadgets carries a limited number of each item, to avoid disappointment, please make payment within 24 hours upon receiving a confirmation email from us. As for immediate payments like PayPal/Smoovpay, you can Whatsapp us at +6591814105 to confirm stock availability before placing an order.
- A surcharge will be imposed for payment made by PayPal or Smoovpay. Do note that the surcharge is non-refundable once payment confirmed.

For ibanking, Please make payment to:


iPassion Group Pte Ltd Bank account
United Overseas Bank Limited Singapore
Name of account: iPassion Group Pte Ltd
UOB Account: 358 305 1269
Swift Code: UOVBSGSG
Bank Code: 7375
Branch Code: 446
* Please remember to use FAST transfer for us to receive the payment immediately
** Please double-check the amount is correct before you proceed with the transfer, if you are unsure of the amount, kindly exit the payment and check with our personnel at +6591814105 for the right amount. We will not refund the excess amount if you have transferred by mistake.
*** For a larger amount, please contact us for further assistance as there might be admin charges.

For Paynow, please make payment to:
201511854ZMAY


* Please refer to key order number as a reference.

After which, you will need to notify us of your payment by:
The form below or Whatsapp: +6591814105

For Grabpay, please make payment to:


After which, you will need to notify us your payment by:
sending us a screenshot with the transaction ID via whatsapp to +6591814105 along with your order number.


Please include the Transaction Date & Time / Bank Transfer reference number / Order Number / iBanking or PayNow. If you did not choose FAST TRANSFER for iBanking, the payment will usually take 1 to 2 working days to process. Please double-check before you confirm the transfer. We will not be responsible for any delay.
Once your payment has been processed and is reflected on our bank account statement, you will receive a notification email indicating when we will be shipping out your orders.

For Atome Payment, please Scan QR Code to make payment: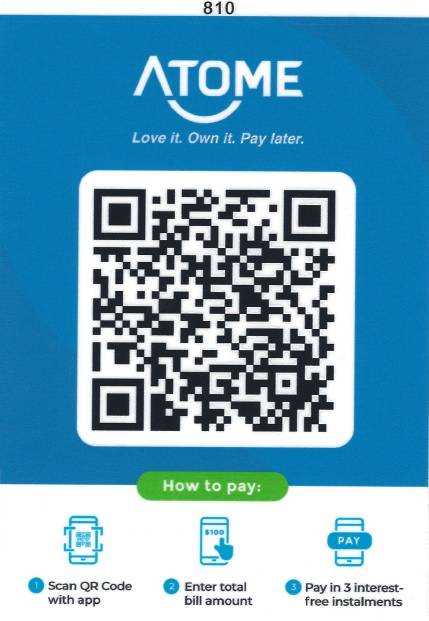 For Octifi payment, please scan QR code.