Please sign in so that we can notify you about a reply
Description
3s/6s External Comes with freebies (worth $50)
✔️Free Front and Rear Light
✔️Free Helmet
✔️Free 1 Year Bike Frame Manufacturing Defect, 6 Months parts Warranty Coverage
*Free gifts are on a while-stock-last basis, and subject to change without prior notice
---
Top up of warranty Comes with freebies (worth $259):
✔️Free 16in1 Key Allen Tool Set
✔️Free Gold Mini Air Pump
✔️Free Water Bottle Holder
✔️Free Rechargeable Front Headlight
✔️Free Rechargeable Rear LED Light
✔️Free Korea Hand Sanitiser
✔️Free Bike Key Lock
✔️FREE 1-time Bike Servicing. (U.P. $40/time)
✔️FREE Lifetime Brakes Adjustment. (U.P. $15/time)
✔️FREE Lifetime Gear Tuning. (U.P. $15/time)
✔️FREE Lifetime Shaky Stem Tightening. (U.P $30/time)
✔️FREE 2/4/6 years Bike Frame Manufacturing Defect, 1 year parts Warranty Coverage
*Optional Warranty Years Extension
*Free gifts are on a while-stock-last basis, and subject to change without prior notice
---
✔️Each customer is entitled to a Complimentary Bike Servicing, 6 months from the date of purchase at PassionGadgets.
⭐Our Complimentary Bike Servicing consists of:
✔️Gear Tuning
✔️Brake Adjustment
✔️Shaky Stem Tightening
✔️Tire & Tube Replacement (Labour Only)
✔️General Bike Adjustments (Tire Pressure Check)
✔️Drivetrain Cleaning and Lubricating
✔️Tightening of Nuts and Bolts
⭐Do note that Bike accidents and unsuitable modifications are not covered under servicing.
Depending on how long it takes to service your bike, you will be required to leave your bike at our store for 1-3 working days. Subject to availability, servicing can only be done Monday-Friday at 6 Harper Road, Leong Huat Building, #02-07 S369674.
⭐For Complimentary Servicing, please bring along your warranty details, otherwise, normal servicing charges will be applied.
---
3Sixty 3S External 2022 latest model also known as 3Sixty G3.
External 3speed same like Aceoffix.
Frame: CR-MO Steel
Fork: CR-MO Steel
Shifters: 3 Speed External
Crankset: 48T 3Sixty with Sq Taper Crankset
Brake: Rim Brake
Wheel: 16" Lightweight wheelset
Weight: 10.72kg (without Pedal) / 11.05kg (with pedal)
---
3Sixty 6S = 6 Speed External
M bar choice has longer shifter and brake cable, able to convert to S Bar.
As for S bar by default have a shorter cable which if need to convert to M bar will have an extra cost in changing all 4 cables.
4130 Chromoly Steel Frame
SRIDE Shifter
Wheel: 16" x 1-1/8
Tire PSi: 70-110
48T Alloy Crank Set
Cassette Size 11-21T (11-13-15-17-19-21T)
Lightweight aluminum 3Sixty seat-post
S bar and Mbar
3Sixty Box Dimension: 67cm x 35cm x 64cm
3Sixty Est Weight: 11.4kg (6S)
---
The bike is so compact it helps you in many awkward situations.
Bag it and travel as luggage on public transport.
Roll it under the table in small restaurants.
It can even be stored under the bed!
3sixty made in China for Korea Market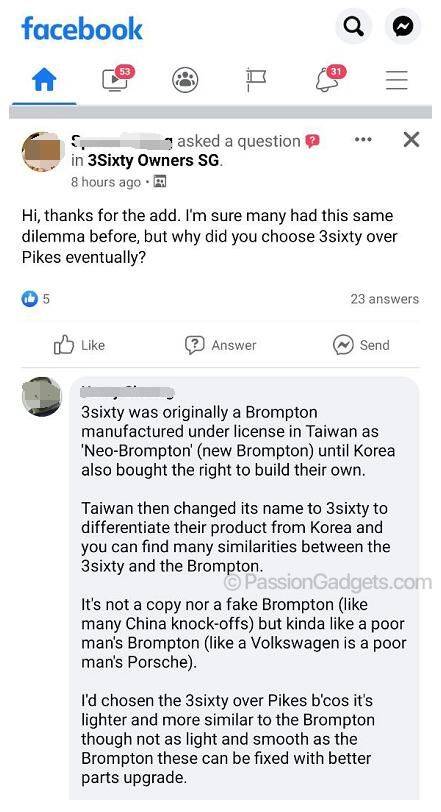 ---
---
3Sixty Electroplating Bronze Chrome Bronze (New Color!)
---
3Sixty Navy Blue M Bar
---
3Sixty Red
---
3Sixty Matte Black
---
3Sixty Postal Green
---
Preorder Disclaimer/FAQ
What is a Preorder?
A pre-order is a purchase in advance for an exclusive item that is currently out of stock.
While shopping at our store, you may come across an item so amazing that you have to get your hands on it! Due to it being hot-selling, preorders would be open to customer who wants to reserve a piece for themselves the moment when stocks arrive.
---
How does a Preorder work?
To secure the item, customers would have to make full payment when carting out.
---
Why should I Preorder?
By purchasing products through a pre-order, you are securing the product as soon as it's available in store again! You may opt for it to be shipped to you otherwise self collection would be at our store. It's a great way to avoid sell outs!
Preorder period will vary based on factors such as: Shipment duration and Manufacturer.
---
What about Changes in Delivery Date?
Our Pre-order disclaimer: Since the item has yet to reach us, we are unable to guarantee the exact delivery date. Each pre-order item has an estimated shipping date but this is subjected to changes by the manufacturer without prior notice. We seek for your kind understanding as during this covid period, shipments are prone to delays due to port congestion issues. If for any reason we are unable to fulfil your pre-order, we will refund the full amount within 3 working days (Only for paynow payment).
---
What if items are no longer in production?
We'll provide a full-refund at your request via Paynow only. Grabpay Refund will have 2% Admin Charge.
No discounts or credits will be offered due to such issues.
Once you place your order, your order is final, and non­-refundable.
---
You may also be interested in