Please sign in so that we can notify you about a reply
Description
Free Gifts:
Film Skin Stickers

Photo Clips

Desktop Photo Stand

Mini Album
Camera Box includes:
Tips & Shooting Guide: http://instax.com/mini90/en/guide/
Blending its popular X-series, Fujifilm introduces the new Instax Mini 90. The new retro charmer features a variety of shooting modes and high-performance flash. Allowing users to combine two different images in a single frame by pressing the shutter twice, the double exposure mode is now available from the Mini 90. Other exciting functions like the valve mode would enable camera enthusiast to capture light trails and night scene.
The camera offers 10-second exposure, multiple exposures and shutter speed of up to 1/400 of a second. The Instax Mini 90 comes with a 60mm f/12 lens, rechargeable li-ion battery, dedicated mode buttons on the back of the camera and the ability to fine tune the flash exposure.
Mini 90 Neo Classic is a high end camera of the line and has upgraded specifications from the Instax Mini 8. Whereas the Mini 8 only has settings for brightness adjustments, the Mini 90 comes with a macro modefor shooting things up-close, double exposure for those who really want to get artsy, and a "bulb" mode for shooting as many as 10 exposures in a slow shutter speed. The lens is a 60mm f/12, and a programmable electronic shutter can shoot as far as 1/400.
With the Mini 90, users also have better control of flash so shooting portraits at night won't wash out the subject, and the camera comes with rechargeable battery instead of the previous models that run on CR2 batteries. There's even a mounting hole to use with tripods, so you can make use of that bulb mode more successfully.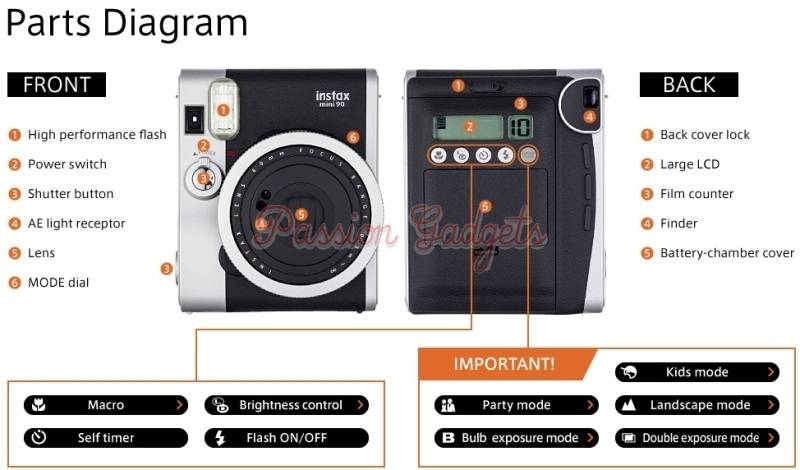 You may also be interested in