100% Original Xiaomi Water Purifier (On Table)

Description :
Original Intelligent Xiaomi Water Purifier Check Real-time Water Quality 400 Gallons Reverse Osmosis Filter

Xiaomi Smart Water Purifier, adopts TDS less than 100 and Reverse Osmosis technology purified water, makes the tap water drinkable directly.Large water flow 1L/min and 50 % water production rate, can up to 400 gallons of water in a day.
Smart water purifier, check real-time water quality on smart phone, also will remind you when to change filter.
4 times filtration area, Multi-channel filter path can improve filtration efficiency and extends diaphragm lifespan.High flow booster pump for stabilised flow and extending lifespan.
Recommended filter replacement period:
Tube #1 (Cotton filter) – every 3-6 months
Tube #2 (Carbon activated filter) – every 6-12 months
Tube #3 (RO membrane) – every 18-24 months
Tube #4 (Coconut Husk carbon activated filter) – every 6-12 months
* Note: This is just a rough estimated, you can gauge when to change the filer according to the app!*
It has 4 filters :
Cotton filter clean sediment, rust, fibers and other large impurities.2 Activated coconut carbon filters reduce discoloration, odor and improve taste of water.RO membrane filters heavy metals, bacterial and other harmful micro-organisms.

Specification :
Brand : XiaomiMaterial : Stainless steelPower : 96WVoltage : 220VSuitableTemperature : 5~38 u2103Weight : 14kgType : Reverse Osmosis Use : Faucet-MountedProduct size (L x W x H) : 41 x 20.5 x 26 cm / 16.11 x 8.06 x 10.22 inchesPackage size (L x W x H) : 44 x 23.5 x 29 cm / 17.29 x 9.24 x 11.40 inches


Package Includes :
1 x Original Xiaomi Smart Water Filter ( package in sealed plastic bag )4 x Original Xiaomi Filter6 x Tap Adapter1 x Power Supply Adaptor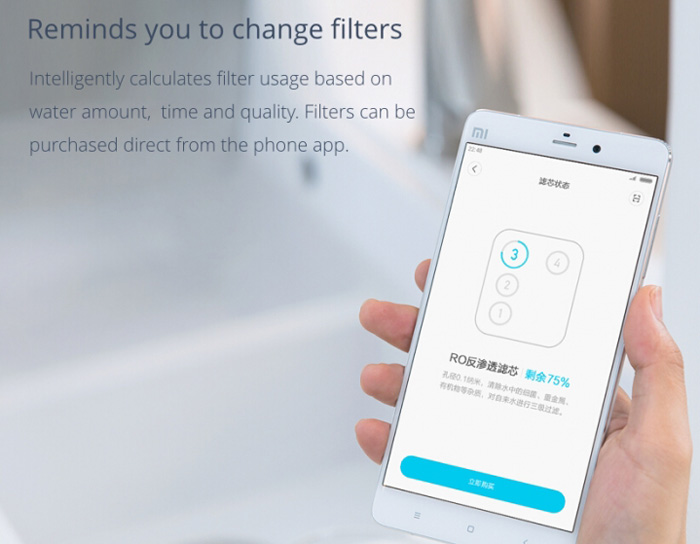 Excited and waiting to unbox it upon receiving it!
The filters and the system is well packed in the box
4 Stages of filtration, PP > AC > RO > AC.
On the back of the filter, you can write down the date of your first use of the filter as a record. The filtration efficiency is also clearly written on it.
This is the connection to the Tap. Option to choose filtered water or raw water.
Mi Water Purifier can filter upto 400 gallon of water.
Clear instruction on installing the filters. Follow Step by step and you will be ready to go!
Took me only 30 seconds to place on install all the filters.
The top cover also provide connection instruction. Scan the QR code and dowload the Mi Home app and you can coonect the Water Purifier to your phone.
The Mi Water Purifier also come with sever tap connection.
Tools are also provided for you to install the connector.
Took me about 10 mins to figure out on how to connect the head. >.<
Once it the connector head is installed, it is just a hook on to the main head.
Finally, complete the installation! Do note that there is an additional drain line for waste water. You will see cloudy water from it when you using the filtered water.
During your first use on the water purifier, you will have the let the water to pass by all the filters. The light will show up orange means that the water is still not ready yet. You will have to run the tap till the light turn from orange to blue.
While water for the water to be filtered, it is time to connect it to Mi Home App.
Once wifi is connected sync it to the Mi Home app.
You can find your Mi Water purifier once successfully connected.
For the first time using the wate purifier, you will need to let the tap run for a while till the light turn from orange to blue. This means that the water is ready for drinking.
Using the app you can also see the life span of the filters and hence knowing when to change the filters.
The app can also tell you what is the incoming waterTDS level and after filtration water TDS level.
The table posted by the user, with the values ​​of TDS tester:
The last value TDS tester - 300 and above is designated as contaminated water. This can cause a lot of discussion, because most meet the standards of the State Ministry of
Health points out that all the indicators of water quality TDS below 1000 are satisfactory.
| | |
| --- | --- |
| The value of TDS (PPM) | Water quality |
| 0-9 | Clean Water |
| 10-60 | mountain spring water, mineralized water |
| 60-100 | Purified Water |
| 100-300 | Tap water |
| 300 and above | Contaminated water |

100% Original Xiaomi Water Purifier (Below Table)
The size of this Mi Water Purifier is even smaller than an A4 paper !
Mi Water Purifier enhanced with new technology which makes it become a smart gadget. When the quality of the water is good, the water purifier automatically speed up (1.4L/min compared to normal mode 1.0L/min) and shorten the time for us to wait for the filtered and clean water.

This water purifier has a very high compact RO filter which has superb filter power. The common problem we are facing when we're using water purifier for a long time is the output of water is getting slower due to dirt stuck on the filter. This Mi Water Purifier automatically clean up and wash away the dirt by using the waste water produced. By doing so, every single drops of the water would not be waste.
Under this mode, the ratio of clean and dirty water would be 2: 1 which means there's only 1 cup of waste water produced in order to produce 2 cups of clean water which greatly reduce the wastage of water.
Stainless Steel Smart Water Tap

If you notice carefully there's a blue LED light at the water tap as shown on the photo above. Blue light indicates the water quality is good while the orange light indicates it's time for you to change the filter. You can also check the water quality by using TDS pen.
This material used to produce this water pipe is 304 stainless steel so you can enjoy your drinking water without worrying there's heavy metal contained in it
Changing The Filters
Simple and you may install it yourself without the help of technician.


Water Filter can be hidden under table or cabinet