Display set available for Test Riding with no obligations at our Retail store!
Compliant PMD and Singapore Spring Authority Approved Safety Mark Charger
LTA regulations:
15km/h on Shared Footpath
25km/h on Cycling Path/PCN
Less than 20kg allow
Not allowed on Road
Max Device width no more than 70cm


The INOKIM Quick 3 (2017) is the latest evolution in the World's most popular Inokim Quick series. To be launched in Sept 2016, the Inokim Quick 3 uses more or less the same reliable frame of the Quick 2 but with a much improved drive-train system that delivers more punch. .

PRODUCT BENEFITS
- Built-in Front & Rear Lights
- 5 seconds to fold and unfold.
- Distance between charges 25km.
- Wide deck for comfortable foot position while riding.
- Aluminum 6061 T6 Alloy, durability, and light weight.
- Outstanding and iconic design.
- Fits into a trolley bag.
- Front and rear brake allow confident riding and safety.
- Ecological, economical, and environmentally friendly (zero emission).
0% Instalment Plan purchase here at Qoo10 (Qoo10 Price may not be differ from store)
Other sellers may sell at a higher price.
The INOKIM Quick 3 (2017) is the latest evolution in the World's most popular Inokim Quick series. To be launched in Sept 2016, the Inokim Quick 3 uses more or less the same reliable frame of the Quick2 but with a much improved drivetrain system that delivers more punch.
An improved version of its predecessor, the INOKIM quick 3 comes with a more powerful motor that offers more responsive riding, better and brighter front and rear light for night riders and a better handle bar for less vibration.
It is the last mile solution for all your commuting problems, bypass the endless traffic jams and crowds in Singapore, be it on the road or on the MRT. The INOKIM is also a perfect recreational device, enabling you to move freely whenever you want.
Pls note: our scooter cannot support the app function due to we remove the serial number
Join our E-Scooter Singapore Facebook Page for latest update:
Available for test drive at our store!
All INOKIM Scooters are Designed in Israel, Made in China.
We parallel import direct from Manufacturer and we guarantee ours is 100% Original Genuine.
(More info on Parallel Import here)
Just that the warranty is covered by us "Passion Gadgets" in-house warranty with original repair parts.
Kindly note that the serial code of our Inokim Scooters are removed to prevent local distributors from tracking them as we are selling it below market price.
For the exact same product and functionality with genuine parts used, as well as local warranty by in house technicians, why pay more?
Rest assured that we issue new engraved serial code and warranty cards to identify the scooters purchased from us.
Hurry up and get the scooter with the latest and greatest personal electric mobility
Free Air pump
Free Allen Key + Pouch
Free Protective Laminate (Some sellers might sell it separately at $15)
2017 MYWAY — THE INOKIM Quick 3
The Inokim 2017 in 5 Color: White , Blue , Lime Green , Orange , Black.
The latest and greatest in personal electric mobility.
MYWAY/INOKIM founded by Nimrod Sapir, an award-winning Israeli industrial designer who had a dream of developing a mobility vehicle that is portable and green.
---
We have all original replacement parts for do repair and servicing.
Improved Folding handlebar:
The new INOKIM QUICK 3 (2017) handle bar takes after the INOKIM Light, designed for an easy-fold while minimizing free-play. The new handlebar maintains the same ergonomic curved feature of the original MYWAY to provide the most comfortable ride, but is longer to provide even greater stability and comfort to your ride.
Exciting new variety of colors to choose from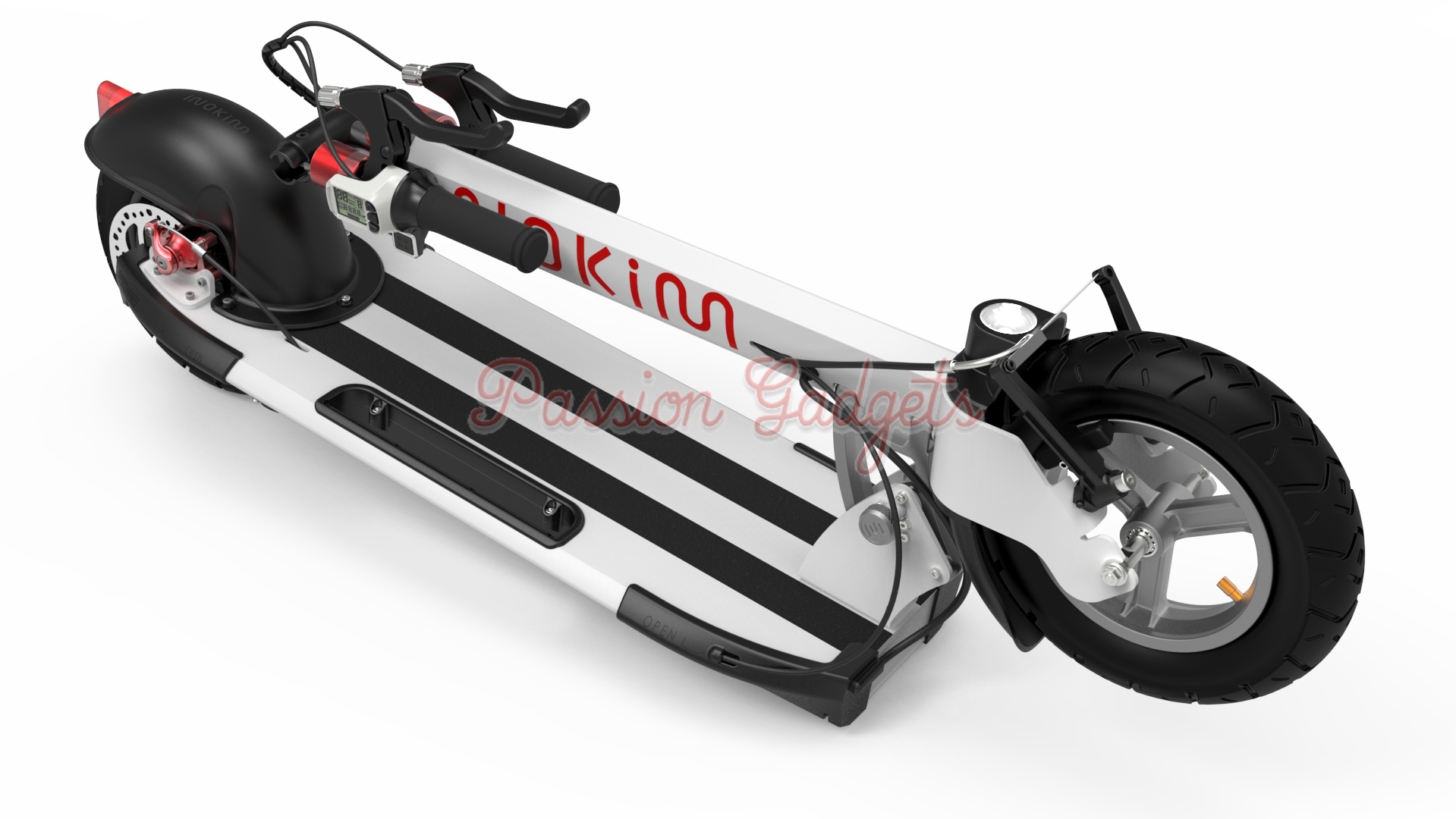 Built in Front & Rear Lights:
The INOKIM Quick 3 (2017) features bigger and stronger front and rear lights. Perfect for night riders, the lights can be kept on with a hold of the '+' button, and flicker automatically to signal a brake. This makes it easy for fellow riders and pedestrians to identify you in the dark.
The upgrade to a 400W motor really kicks things up a notch. Not only do we see an improvement in the initial pick-up, a more powerful motor also means the ability to tackle tougher slopes.
Singapore Safety Mark Certified Charger Adapter
INOKIM FAQ:
What is the difference between INOKIM and MYWAY?
There is no difference. INOKIM is the name given to MYWAY when it entered mass production.
What is the difference between INOKIM and other batteries?
INOKIM contains rechargeable Lithium batteries such as those used in electric and Hybrid cars for example the Toyota PRIUS and the TESLA. This is the high-end technology.
The benefits of Lithium batteries are: Multiple charging and recharging ability, lightweight, range, and compactness.
How fast can INOKIM go?
It can reach 25km/h, depending on user's weight, wind resistance, and slopes.
How long does it take to charge INOKIM?
It takes 5 to 6 hours from an empty to full battery.
How long between recharges?
With a new, fully charged battery, INOKIM can travel around 25km in optimal conditions (a load of 70kgs, no slopes, no stops, no wind).
How much does INOKIM weight?
The weight of INOKIM Quick e-scooter is less than 15kg
How waterproof is INOKIM?
It is waterproof from falling rain, however one should avoid driving through water.
Inokim Display Unit: Error 30 - Controller Spoil
Inokim Error 22 - Throttle Spoil
How to resolve Error 25 on the Inokim LCD Display.
Error 25 means that the REAR brake are stuck or the brake levers are depressed while power on.

Follow below steps to remove the error25.

1. Use no. 4 Allen Key to loosen the brake cable at brake caliper.
2. Ensure the left brake lever is not stuck.
3. Ensure error 25 goes away when you release the brake cable.
4. Ensure that the spring lever is working properly.
5. Tighten up the brake cable again and ensure that the error 25 does not return.
6. Ensure left brake is working properly but doing the necessary adjustments.